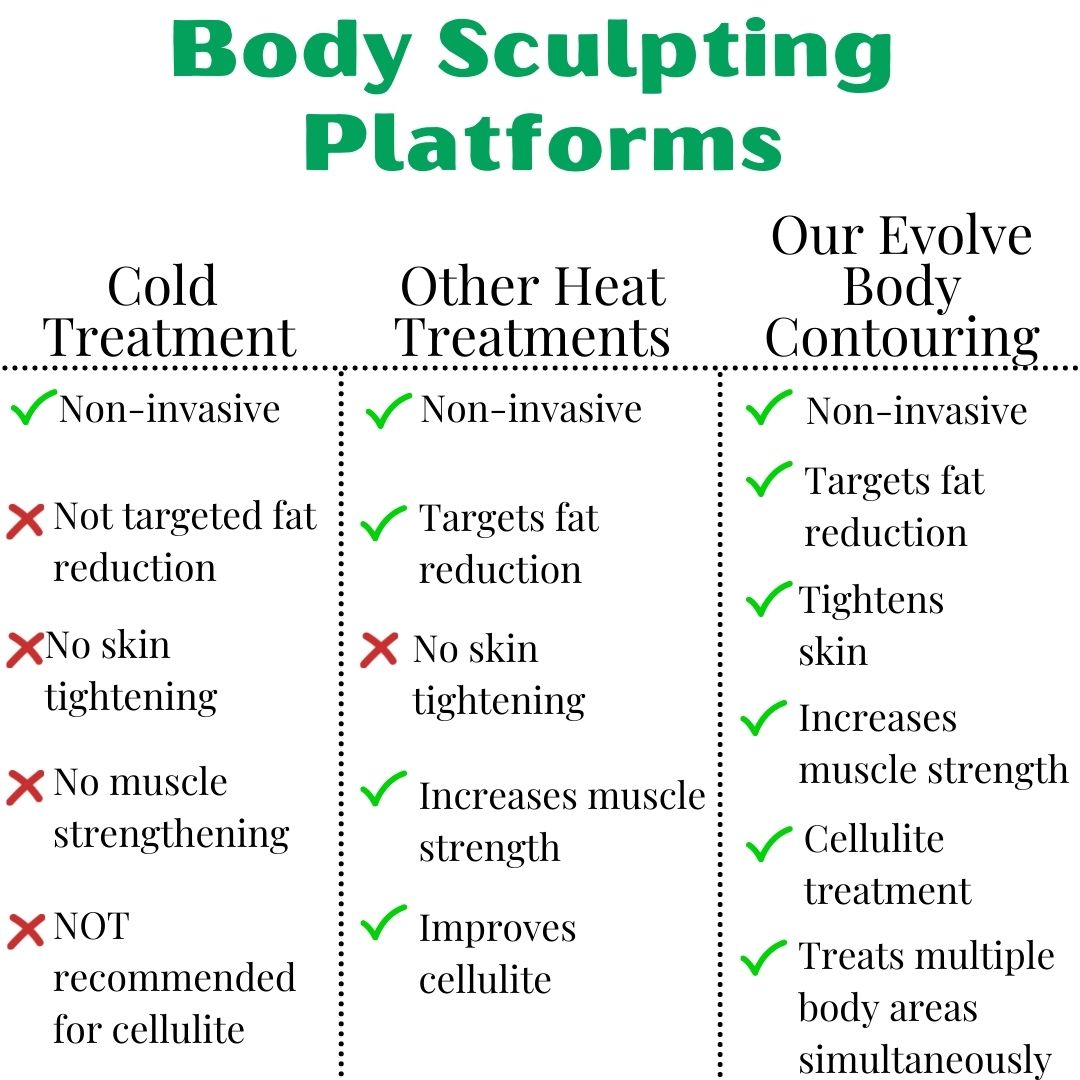 Hello!
We've been getting a lot of questions about our Evolve body contouring system and how it differs from other body contouring therapy.
First of all, this is the best time of year to initiate body contouring to start seeing results for more toned areas for spring break, summer, and beyond.
Our Evolve heat sculpting platform uses radiofrequency energy. It is scientifically proven to kill fat cells and boost collagen production to tighten skin. It can also improve the appearance of cellulite and tone muscle!
It is composed of three different therapies on one machine-Trim, Tite and Tone.
Evolve Trim's bursts of painless, high voltage energy disrupts the walls of fat cells which results in permanent cell destruction in the treated area. Your body's own lymphatic system removes the destroyed cells. Trim can be used on the belly, back, love handles, outer and inner thighs and upper arms.
Tite uses the same energy to tighten loose skin caused by the natural loss of collagen as we age.
Tone stimulates muscle contractions for enhanced abs or more volume in your behind to create a more curvy backside.
The Evolve body contouring system is painless and differs from other body contouring platforms in many ways:
Cold body sculpting technologies tend to treat one area at a time and can't work outside of the treatment area since it relies on cold to freeze the fat cells. Evolve heat sculpting applicators generate heat that will extend beyond the target area creating a smoother transition between different parts of the body. Cold technologies typically lack the skin tightening ability as well. The skin tightening capability is also how Evolve differs from other heat technologies. The reason the skin tightening is so important is you don't want to have loose, sagging skin once the fat is destroyed.
Come see us today for a free consultation to see if the Evolve body contouring system is appropriate for you!
-Denise
Autumn greetings to you all!
It's BBL/HALO season as we're getting quite a few questions what is the difference in both the treatments and typical downtime.
Both treatments are offered on our Sciton Joule platform. This is the only light and laser of it's kind in the Cedar Valley and we have it at Evolve!
While BBL/HALO treatments can be performed any time of the year, Fall and Winter seasons are ideal. Iowans love to be outside every moment in the spring, summer and early fall. In order to safely be treated by our amazing staff at Evolve, we need to verify you have avoided intentional tanning or direct sunlight for 2-4 weeks before treatment.
Both BBL and HALO are collagen and elastin stimulating procedures, leading to an overall more youthful appearance.
BBL is pulse light therapy that is superior to outdated intense pulse light therapy (IPL) that targets pigment (sun damage) and vessels on the face (such as in rosacea). It also can be used to obliterate cherry angiomas (the little red dots that show up on the body as we get more birthdays) and port wine stains and other vascular lesions. We can also use BBL light therapy for hair removal, skin tightening, and treatment of acne. It is a virtually painless procedure and can be used anywhere on the body. You can resume your daily skin routine after the procedure. As far as downtime, there isn't any outside of feeling a little sunburned/windburned that day. Any hyperpigmentation does become darker, and continues to darken over next few days, until they fall off. So, as far as social downtime, you will have darker spots that are visible until they fall off, but you can put makeup on to conceal them.
HALO is a fractional hybrid laser that uses ablative and non ablative wavelength to target deeper layers of the skin. HALO targets pigment as well and is the only laser treatment available for melasma, that which needs to be avoided by typical intense pulse light (IPL) treatments. The other benefits of HALO include skin resurfacing effects like reducing fine lines and deep wrinkles, scars, pore size, and so much more. HALO is typically used on the face, neck, chest and hands.
HALO does have more downtime than a typical BBL treatment due to its ablative nature. We offer our patients a post treatment care bag to assist in rapid healing. Most patients can put make up on day 2 or 3. We have included pictures of one of our patients so that you may see the progression post HALO treatment. You can see that while the overall downtime is minimal….you may not want to be out and about for bigger social events for a few days.
The day of the procedure you will have redness, swelling and small, visible holes noted on your skin. You will feel very warm on the face. First day after the procedure, you will have reduced redness, reduced warmth, but some mild swelling. This may progress into the second day post procedure as well. You will also notice areas of dark brown spots and areas of bronzed skin called microscopic epidermal necrotic debris (MENDS). This is the bad stuff coming out. There may be some mild peeling of the skin post procedure. That's why moisturizing is KEY during this stage. Eventually the MENDs start to fall off, usually starting by the nose and going outward. You can see by Day 6 after the procedure our patient already has significant clearing. I want you to really focus on her amazing HALO glow 21 days post procedure! Her sun damage and pigmentation are gone, skin appears tighter and more youthful as well.
If you suffer from any of the conditions listed above, but don't know which treatment to choose, please come in for a free consultation with one of our amazing staff! We'd love to take care of you at Evolve Aesthetics and Regenerative Medicine, where we provide excellent patient care with exceptional results!
-Crystal