At Evolve Aesthetics, our number one priority, is our clients. To help make our procedures, more comfortable, we offer Pro-nox™.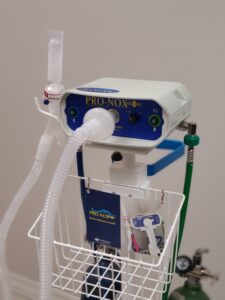 This helps reduce discomfort and anxiety and is another example of how we make sure we are taking care of our clients.
Pro-Nox™ is a 50/50 mix of nitrous oxide and oxygen that provides comfort during in-office procedures. The gases are only delivered on demand when you (the patient) inhales. Pro-Nox™provides a diminished sensation to pain and anxiety without loss of consciousness.
Breath away pain and anxiety with Pro-Nox ™!
Come get your consultation and rest assure when the time comes for your procedure, we have you covered.
Are there any side effects to Pro-Nox™?
The most common side effects reported include headache, dizziness, lightheadedness or nausea.
Who should not receive Pro-Nox™?
You should not receive Pro-Nox ™ if you are are breastfeeding, pregnant or have a severe respiratory disease/illness or vitamin B12 deficiency.
Am I able to drive myself home after the procedure with Pro-Nox™?
Yes, unless directed otherwise by your provider. Pro-Nox™ clears rapidly from your system in 5-10 minutes.