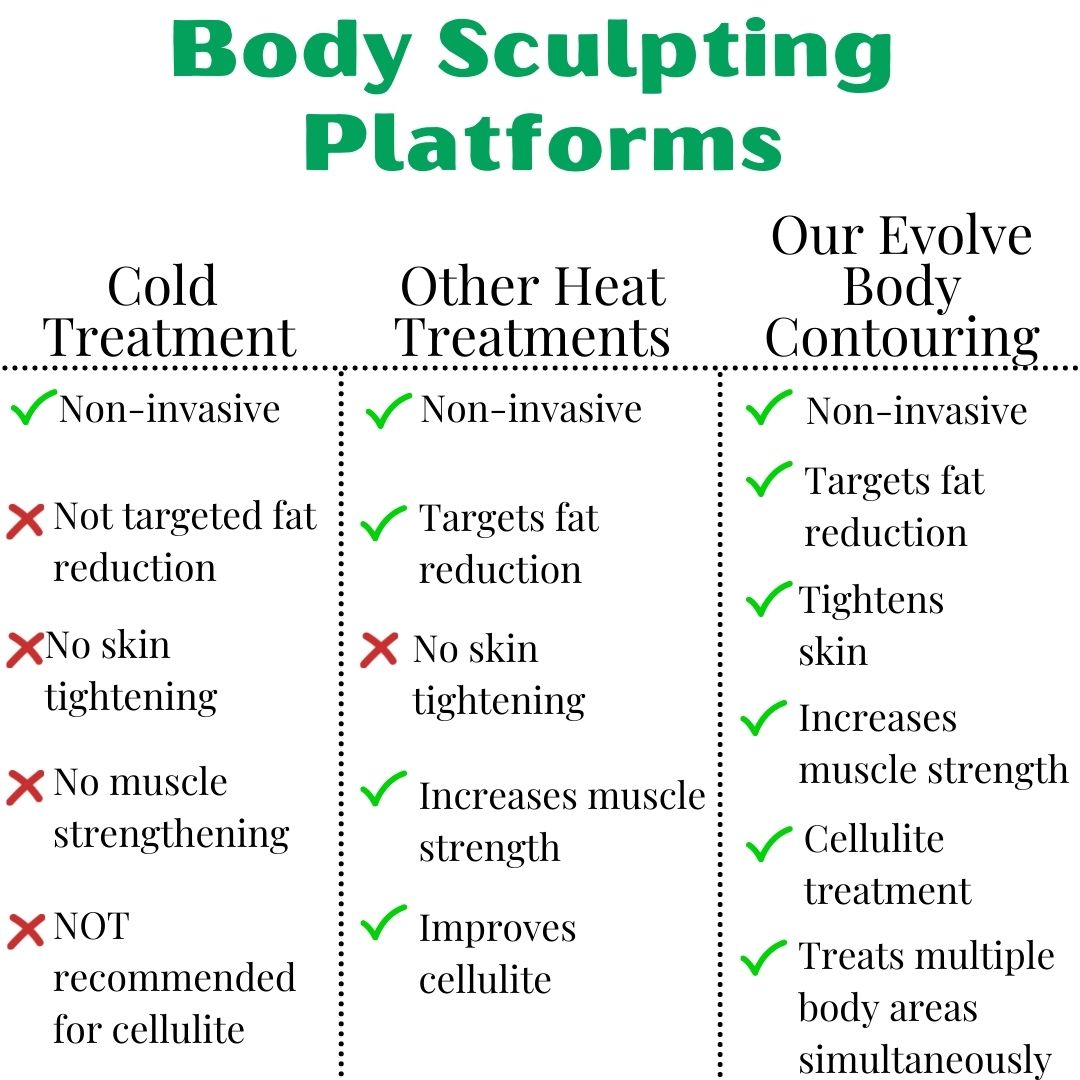 Evolve Body Contouring
Hello!
We've been getting a lot of questions about our Evolve body contouring system and how it differs from other body contouring therapy.
First of all, this is the best time of year to initiate body contouring to start seeing results for more toned areas for spring break, summer, and beyond.
Our Evolve heat sculpting platform uses radiofrequency energy. It is scientifically proven to kill fat cells and boost collagen production to tighten skin. It can also improve the appearance of cellulite and tone muscle!
It is composed of three different therapies on one machine-Trim, Tite and Tone.
Evolve Trim's bursts of painless, high voltage energy disrupts the walls of fat cells which results in permanent cell destruction in the treated area. Your body's own lymphatic system removes the destroyed cells. Trim can be used on the belly, back, love handles, outer and inner thighs and upper arms.
Tite uses the same energy to tighten loose skin caused by the natural loss of collagen as we age.
Tone stimulates muscle contractions for enhanced abs or more volume in your behind to create a more curvy backside.
The Evolve body contouring system is painless and differs from other body contouring platforms in many ways:
Cold body sculpting technologies tend to treat one area at a time and can't work outside of the treatment area since it relies on cold to freeze the fat cells. Evolve heat sculpting applicators generate heat that will extend beyond the target area creating a smoother transition between different parts of the body. Cold technologies typically lack the skin tightening ability as well. The skin tightening capability is also how Evolve differs from other heat technologies. The reason the skin tightening is so important is you don't want to have loose, sagging skin once the fat is destroyed.
Come see us today for a free consultation to see if the Evolve body contouring system is appropriate for you!
-Denise